There Is No Greater Love
Music by Ron Klusmeier
Words by Walter Farquharson
Tune Name: MOOSOMIN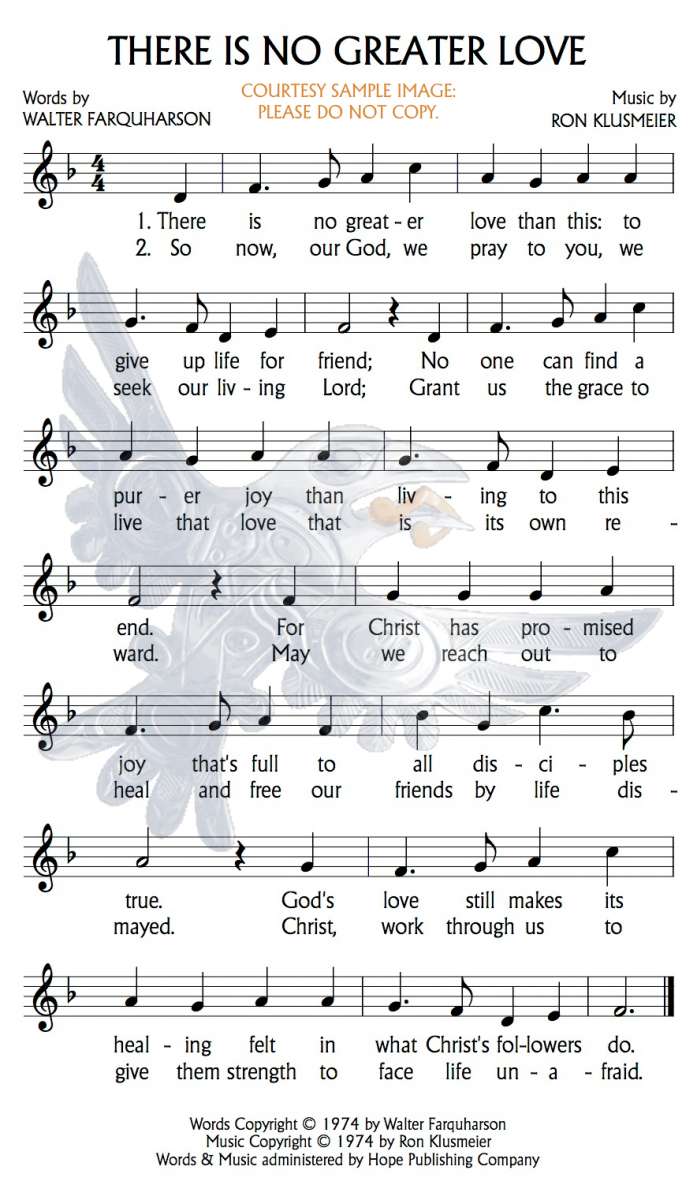 Lyrics as Poetry
There is no greater love than this:
to give up life for friend;
No one can find a purer joy
than living to this end.For Christ has promised joy that's full
to all disciples true.
God's love still makes its healing felt
in what Christ's followers do.So now, our God, we pray to you,
we seek our living Lord;
Grant us the grace to live that love
that is its own reward.May we reach out to heal and free
our friends by life dismayed.
Christ, work through us to give them strength
to face life unafraid.
---
Words by
Walter FarquharsonCopyright © 1974 by Walter Farquharson
Administered by Hope Publishing Company
Carol Stream, Illinois • USA
Comments About Song
A Reflection by
WALTER FARQUHARSON
---
John tells us in his gospel that Jesus spoke much to his disciples about love. He spoke of God's love and of the love that he, Jesus, had for his followers, his friends. The commandment that he emphasized during his last meal with his closest followers was that they should love one another. Their love and God's love were essentially the same and, out of that love, they would minister God's love to, and with, the people they met. " There is no greater love than this," said Jesus, " that one lay down one's life for one's friends."
Jesus speaks of this as an act of choice, of volition. It is done, not out of loyalty to a cause, a nation, a doctrine, or some obligation. One "lays down one's life". The needs of ego-self are set aside. Ordinarily, our bodies, our hearts, our minds, all play a part in demanding the protective armour of knowing what is safe and what is dangerous. We become programmed to seek a place and state of being safe and protected from harm. Grace at work, must enable us to move beyond that way of thinking, feeling, acting. To find life we must be prepared to give up our insistence upon surviving and surviving safely and without vulnerability. We must move beyond the need to win, beyond the need for reward and praise.
This amazing love differs from possessive love. It has nothing to do with pity, nor does it calculate the worth of the "other" for whom love is spent and life is laid down. It does not seek advantage or repayment for whatever has been done, for whatever has been offered as gift, as blessing. It does not measure gratitude.
Laying down one's life for one's friends may be an actual giving of one's life. It may be an act of sacrifice such as shown by a person in a situation of famine who chooses to give their food to another. More often it may be a standing with another even though that choice threatens to destroy reputation, standing in community, some personal advantage. It may mean standing up to a bully or an abuser when it would be easier and more prudent to look the other way, or to excuse the perpetrator.
It is amazing how often we see such love demonstrated in the choice of a child or youth. Even the story in John's Gospel of Jesus feeding the multitude has hidden in it the story of such love. The disciples are outraged and confused by Jesus apparent expectation that they will figure out a way to feed the vast crowd. But there is a young lad who has five loaves of bread and two fish in his pack. He makes it known to Andrew that he'll give these up. Andrew tells Jesus. And all are fed! Many would have had food with them but they needed to save it, hoard it, keep it from the less worthy or the imprudent who hadn't thought about packing a lunch. The boy acted out of grace-filled love that perhaps began the miracle of sharing that occurred on the mountainside that day.
Probably we have heard these words, "Greater love has no one than this, that one lay down one's life for one's friends," at memorial and Remembrance Day observances. While it is a quoting out of context, it has an appropriate application. As nations and societies we ask young people (usually young people) to step forward to serve in armed services. They cannot do so without the realization that they are "putting their lives on the line". We ask the same of fire-fighters, first responders, police, and also many medical personnel. Some journalists and some protesters and those standing up for justice or freedom may also face risk to life and well-being and persecutions subtle or overt.
We can see, in less dramatic fashion, similar willingness to give of self in the work of those who give unstintingly of time and talent in various aspects of community and church life – musicians, educators, those providing thrift-store and food and shelter services to folks in their communities, coaches and mentors, fund-raisers and promoters. Today such service and commitment is often scorned or denigrated and motivations are questioned.
The parable told by Jesus often referred to as the parable of the prodigal son is in reality the parable of God's prodigal love. The forgiving, welcoming, celebrating parent of the parable embodies the foolish self-emptying, rash and prodigal love of God. The expected judgement, the stern reprimand, the reiterated demand for a proper display of repentance and an assurance of genuine reform is not present. Instead there is welcome, open arms, delight. (Luke 15:11-32).
This parable is not a sweet tale to have us daubing our eyes with tissue or wiping tears and sniffle away with a shirt sleeve. It is ridiculous, radical, and upsetting to a transactional , quid pro quo world and to standard religious systems. It is the elder brother that we most easily understand, yet curiously, we are programmed to judge him when we read the parable as if it was a bit of comfortable entertainment. The parent has, by grace, set aside his need to be right. He wastes no time nurturing resentment or old hurts. He dares look foolish, maudlin, used. Ego self has been set aside.
Jesus spoke of the Way as a pathway for disciples to walk. When we begin to see those around us as "friends" it is an important indication that we are truly becoming practitioners of that Way. From the blindness and insensitivity of self-absorption we are being renewed to have within us the mind and heart of Christ.
"I don't call you servants any longer," said Jesus. "I call you friends. You know the mind and heart of God." (John 15:14-16). To extrapolate this a little further, it as if Jesus says, "You have become lovers of the world, lovers of creation and lovers of the human family. Therefore you are becoming healers, encouragers, proclaimers of welcome, forgiveness, acceptance, empowerment, even the creators of a new reality."
Audio Sample: Piano
One verse played by Ron Klusmeier
Scripture References
Ruth 1:1-17
2 Samuel 18:28-33
Luke 15:11-32
John 13:34-38
John 15:9-17
John 21:15-19
Season, Theme
or Subject
Assurance
Care, Caring
Christ
Christian∶ life
God∶ love of
Life∶ loving life
Love∶ God's
Service, Serving
Share, Sharing
Witness
Presentation Suggestions
Not yet available for this title. Contact us if you are a subscriber (or purchaser of this title) and need this item.
Projection Images
This feature is only accessible to Subscribers or those who have purchased this Single Title.
---
Use the link below for instructions on how to use the Projection Images in Powerpoint and Keynote.
Learn more
---
Projection Images
Available for This Title
---
16:9 Words Only
Apple Keynote
MS PowerPoint
ZIP File (JPEGs)
16:9 Words With Music
Apple Keynote
MS PowerPoint
ZIP File (JPEGs)
16:9 Words With Images
4:3 Words Only
Apple Keynote
MS PowerPoint
ZIP File (JPEGs)
4:3 Words With Music
Apple Keynote
MS PowerPoint
ZIP File (JPEGs)
4:3 Words With Images
Accompaniment Recordings
Not yet available for this title. Contact us if you are a subscriber (or purchaser of this title) and need this item.
Purchasers and Subscribers


Click links below to download your versions.
Versions Available for This Title
Contact us if you need a version you don't see here.
---
Melody Line Versions (includes transposing instruments)
---
Melody Line: 'C' Instrument or Vocal

Melody Line: 'C' Instrument 8va

Melody Line: Bass Clef 'C' Instrument

Melody Line: Alto Clef Instrument

Melody Line: 'Bb' Instrument

Melody Line: 'Eb' Instrument

Melody Line: 'F' Instrument (high)

Melody Line: 'F' Instrument (low)
---
Piano Versions
---
---
Hymn-style Vocal Harmonizations (accompany with any piano versions)
---
---
Guitar Chords & Bass Progressions
---
Guitar & Bass: Full chords in keyboard key

Guitar: Transposed capo chords

Easy Guitar: Basic chords