Stay with Us
from the Easter Season Cantata: "Stay with Us"
Music by Ron Klusmeier
Words by Walter Farquharson
Tune Name: CASSWELL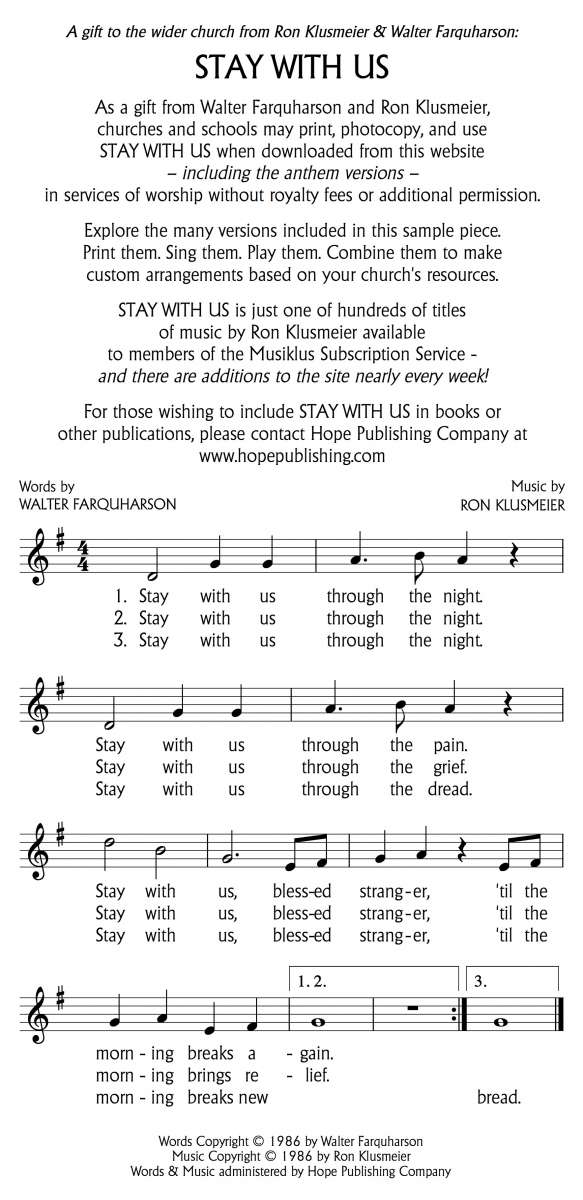 Lyrics as Poetry
Stay with us through the night.
Stay with us through the pain.
Stay with us, blessed stranger
till the morning breaks again.
Stay with us through the night.
Stay with us through the grief.
Stay with us, blessed stranger
till the morning brings relief.
Stay with us through the night.
Stay with us through the dread.
Stay with us, blessed stranger
till the morning breaks new bread.
---
Words by
Walter FarquharsonCopyright © 1986 by Walter Farquharson
Administered by Hope Publishing Company
Carol Stream, Illinois • USA
Comments About Song
An Introductory Comment by
RON KLUSMEIER
---
None of the collaborations by Walter and me has generated as many highly personal and profoundly moving stories related to this song's diverse usages as Stay with Us. Originally conceived as a song reflecting a pivotal moment in the Emmaus Walk story as told in Luke 24, the variety of applications of this simple piece have been beyond anything that Walter or I could have imagined.
Walters reflection is in three sections:
• The first is an overview of Luke 24 which places the song in its context in the 'Emmaus Walk' story.
• The second is about the song itself, including a personal connection which Walter and Joan generously share.
• The third offers additional thoughts as they relate to the Psalms and our heritage of hymns which all cry out with a similar Stay with Us plea.
---
Reflections by
WALTER FARQUHARSON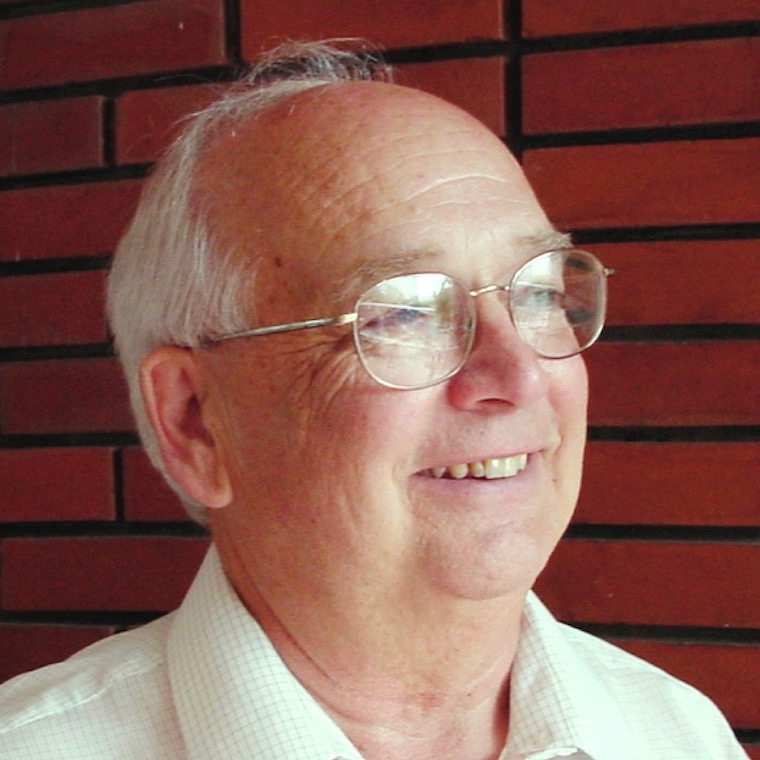 ---
1. Reflection on the context for
Stay with Us
Scripture: Luke 24
The story told by Luke of the seven mile journey of two disciples from Jerusalem to Emmaus has been described as the gospel within the gospel. Generations of Christians have seen it as the prototype of the Christian's walk towards faith and faithfulness.
Luke does not tell us who the two are, nor do we know their gender or anything about the length of time that they had followed Jesus.
Luke says simply that, "Later that same day (Easter) two of them were going to a village called Emmaus…".
Attracted to Jesus and the good news that he proclaimed and fleshed out as teacher, healer, builder of a new community, they had , within a few days, seen the power of temple, state and Empire, conspire to arrest, charge, condemn and execute the one they followed. They had heard the crowd turn against him and cry out for his death. They had probably seen his body placed in the tomb that Joseph of Arimathea had provided.
As if all of this had not been confusing and devastating enough, some women of the faith community had gone to the tomb, found the stone rolled away from the entrance and had returned to where the closest disciples had gathered with the amazing news that somehow Jesus was not captive to death but was alive.
Confused and disheartened, the two decided to go for a walk. As they journey they talk with each other about all the things that happened – undoubtedly including their early enthusiasm, their hopes, the love they had experienced, the service to others they had participated in. Jesus joins them, but they do not recognize him. The stranger asks them why they look so glum and they share their story with him. The stranger engages them in a reflection on the purposes of God and the messages of the law and the prophets.
As they near the village it seems the stranger will leave them but they plead with him to stay with them, to share the meal they will eat and the lodging they have arranged. The stranger accepts the invitation and, at the table, as thanks are spoken and bread is broken, the two travellers recognize their risen Lord.
The two disciples acknowledged that their hearts had burned within them as he talked with them on the road and they wondered at the way he had become known to them in the breaking of bread at the table they shared. They returned to Jerusalem and the upper room. The work begun by the Christ would be theirs to continue.
---
2. Reflection Specific to
Stay with Us
Scripture: John 10:11-18; John 14:18-19, Revelation 21:1-6
Few cries, few prayers, are as basic to us as this. It is one of the first articulated requests of the human child. "Stay with me. Please stay with me." It may be a plea made in response to a fear of the dark or of some peril real or imagined lurking somewhere. It may arise from the need to not be alone, to have company, to feel the immediate and tangible presence of the other. It may be a fundamental cry to know the presence of the Giver of Life, the Comforter. It may be of what St. Augustine spoke, "Our hearts are restless, until they find their rest in thee." It may be so many things. From smaller moments of discomfort to the major catastrophes of life that must be faced, the prayer arises, "Stay with us." I think of how often I have heard from people facing a terminal illness how much it meant to them when their attending physician and others within the medical team have assured them that they would not be abandoned. "He said he'd be with me, right to the end." These were healing words.
In comforting word, the encouraging smile, the touch on the shoulder, the holding of a hand, the gentle smoothing of the brow, the embrace, holy love takes flesh. These medicines of the soul can speak healing and assurance, assure forgiveness, still raging angers and quiet unrelenting anxieties. They can affirm value and cause us to rise up as on eagles' wings from places of helplessness or desolation.
The United Church Creed of 1968 affirmed, "In life, in death, in life beyond death, God is with us. We are not alone." Uncluttered with explanation this faith statement can be, in so many different circumstances, the right word that will carry its appropriate meaning to the heart of the hearer. In the well-known poetic prologue to his gospel, John affirms "The Word became flesh and dwelt among us … from his fullness we have all received grace upon grace." People of faith affirm that indeed we have all received grace upon grace. In the midst of life's conflicts and struggles, when we know we are not alone, we experience the incarnation not as doctrine but as presence. In the ministry of friend or stranger, or in a sense that we are held by the healing holiness of God, morning indeed dawns and new bread, new hope, is offered.
•
This hymn has a special and very personal connection for Joan and me. In 1984, Phyllis Casswell, Joan's mother suffered a debilitating stroke. After a period of rehabilitation she regained power of speech but was left with very compromised mobility. She, and we, were blessed that her powers of thinking and her active involvement in family and in the community of Lakeside Manor Care Home where she had become resident were not compromised.
Joan and I had both attended the meeting of the United Church of Canada's General Council in Victoria in August 1988. When we arrived home it was to discover that earlier that day Phyllis had suffered another severe stroke. Our son, Stephen, had been able to accompany her to the hospital in Yorkton where he waited with her until we arrived. She was not able to speak, there was no possibility that she could recover and we could do nothing but spend time at her bedside speaking important words of love and presence and often holding her hand or stroking her forehead.
On trips home we did the necessary things and we went through the mail that had accumulated during our two week absence. In the mail was a package from Ron Klusmeier containing the first copies of music written by him for words I had written for what would become the cantata Stay with Us. Among those completed was the simple, absolutely right, tune for the words of this heart-felt, universal prayer, "Stay with us through the night." Over the days we waited with Phyllis, Joan's time at home would include time at the piano when she played and replayed this prayer.
In August 1990 I was elected Moderator of the United Church of Canada. With the outbreak of the Gulf War and Canada's involvement in that conflict, I initiated the preparation of a package of materials for congregations wanting to explore appropriate responses to this controversial conflict. Young women and men were being sent into the war zones, families were prayerfully saying good-byes to sons and daughters, siblings, parents. Part of the package included resources for children. As Moderator I received, in response, packages of letters and drawings from children across Canada who were praying for peace and praying for the safe return of their parents and friends.
One item in the package was a copy of the words and music to Stay with Us. As a gift to the church offered by Ron and me, it required no seeking of permissions or payment of any royalties for those wanting to use it. The responses then and over the years spoken or written to Ron and to me have been overwhelming. We heard of people in flight to be with a son or daughter in crisis spending much of the flight humming the tune or singing or speaking the words over and over again. We heard of various vigils and prayer services where the words and music brought comfort and articulated the prayers of broken hearts and worried minds. Some of you who read this reflection will have your own stories and memories.
---
3. Additional Thoughts

Over the centuries, the Book of Psalms has provided people of faith with vehicles for pouring out the anguish of the soul, the confusions of the mind, the disillusion of those struggling with loss of faith in persons and institutions, cries for comfort and the assurance of God's presence and help. It has been said that there is no human emotion that cannot be found reflected in one or more of the Psalms. Think of Psalm 22: "My God, My God, why have you forsaken me?" or Psalm 23: "The Lord is my shepherd", Psalm 121: "My help comes from the Lord", Psalm 90: "O God, our help in ages past". Countless generations have cried their tears and affirmed their joy and confidence in such words sung, read, or prayed silently. "I will lift you up on eagles wings, bear you on the breath of dawn…hold you in the palm of my hand" (Psalm 91), "Weeping may linger for the night, but joy comes in the morning." (Psalm 30), "…in you my soul takes refuge, in the shadow of your wings I will take refuge until the destroying storms pass by." (Psalm 57).
Majestic hymns such as "Abide with Me" and "Eternal Father, Strong to Save" have marked solemn occasions of church and country as well as quieter remembrances in chapel or living room. More intimate hymns have arisen as hymns of the people, often arising out of a personal or community tragedy. "Precious Lord, Take My Hand", "I Need Thee Every Hour", "He Leadeth Me", "Come to My Heart, Lord Jesus", "Swing Low, Sweet Chariot", "Steal Away".
Dr. Stanley Osborne, writing in If Such Holy Song (a hymn by hymn companion to the United Church of Canada's Hymn Book, 1972) tells the story of "Now Thank We All Our God". The hymn was written by Martin Rinckart , pastor, during the Thirty Years War in Germany. Refugees flocked to the walled town. The town was three times pillaged by marauding bands of soldiers. "Violence, famine and plague decimated the population. Rinckart is said to have buried 5000 persons among whom was his wife. The spectacle of this frail but courageous man, moving confidently and devoutly among the people, bidding them not to lose faith but to turn to God, the only source of strength, kept their spirits alive. The stories about his heroism in dealing with lawless bands of occupying troops reveal not the author, poet and musician which he indeed was but, above all, the faithful pastor who literally spent his life for others."

Audio Sample
STAY WITH US
One Verse played on piano.
Scripture References
Exodus 20:8-10
Psalm 13:2
Psalm 25:18
Psalm 30:5
Psalm 55:17
Psalm 139:9
Isaiah 25:9
Matthew 10:42
Matthew 27:33-50
Matthew 28:1-20
Mark 16:1-20
Luke 24: 1-53
Luke 24:22
Luke 24:28-31
John 11:25
Acts 28:23
1 Corinthians 10:16
Philippians 3:10
Revelation 21:4
Videos
Stay with Us
Accompaniment Track with WORDS, IMAGES and MUSIC NOTATION.
Words copyright © 1986 by Walter Farquharson.
Music copyright © 1986 by Ron Klusmeier.
Words & Music administered by Hope Publishing Company.
Season, Theme
or Subject
Companion
Easter
Funeral
Good Friday
Hospitality
Intergenerational
Maundy Thursday
Memorial Service
Presentation Suggestions
Click on the link below for samples of the anthem versions. This sample page may be printed for perusal purposes.
NOTE: After viewing or printing the sample,
click your back button to return to this page.
Note that the anthem versions include an instrumental verse inviting singers and listeners alike the opportunity to spend a moment in silent prayer reflecting on the individual needs of others known to each of us.
Consider inviting the congregation to sing with the choir on Verse 3. The melody is very accessible, even if it has not been sung before. The addition of the optional descant line by first soprano[s] assists in bringing the anthem to a moving climax which then resolves to a gentle unison ending.
Projection Images
Use the link below for instructions on how to use the Projection Images in Powerpoint and Keynote.
Learn more
---
Projection Images
Available for This Title
---
16:9 Words Only
Apple Keynote
MS PowerPoint
ZIP File (JPEGs)
16:9 Words With Music
Apple Keynote
MS PowerPoint
ZIP File (JPEGs)
16:9 Words With Images
Apple Keynote
MS PowerPoint
ZIP File (JPEGs)
4:3 Words Only
Apple Keynote
MS PowerPoint
ZIP File (JPEGs)
4:3 Words With Music
Apple Keynote
MS PowerPoint
ZIP File (JPEGs)
4:3 Words With Images
Apple Keynote
MS PowerPoint
ZIP File (JPEGs)
Accompaniment Recordings
ACCOMPANIMENT RECORDING NOTES:
• 7-measure Introduction.
• Verse 1
• Verse 2
• Instrumental Interlude
• Verse 3
Purchasers and Subscribers


Click links below to download your versions.
Versions Available for This Title
Contact us if you need a version you don't see here.
---
Choral Anthem Arrangements
---
Choral Anthem: SATB Full Score

Choral Anthem: SATB Choral Parts

Choral Anthem: SAB Full Score

Choral Anthem: SAB Choral Parts

Choral Anthem: SSA Full Score

Choral Anthem: SSA Choral Parts

Choral Anthem: TTBB Full Score

Choral Anthem: TTBB Choral Parts

Choral Anthem: Optional 'C' Instrument

Choral Anthem: Optional 'Bb' Instrument

Choral Anthem: Piano without vocal parts
---
Melody Line Versions (includes transposing instruments)
---
Melody Line: 'C' Instrument or Vocal

Melody Line: 'C' Instrument 8va

Melody Line: Bass Clef 'C' Instrument

Melody Line: Alto Clef Instrument

Melody Line: 'Bb' Instrument

Melody Line: 'F' Instrument (high)

Melody Line: 'F' Instrument (low)
---
Bulletin Masters
---
Bulletin Master: Letter-size 1-up

Bulletin Master: Letter-size 2-up

Bulletin Master: Legal-size 1-up

Bulletin Master: Legal-size 2-up
---
Hymn-style Vocal Harmonizations (accompany with any piano versions)
---
Hymn-style: 2-part mixed (m/f) voices

Hymn-style: 2-part treble voices
---
Hymn-style Descant & optional Instrument(s)
---
Hymn-style: Vocal Descant

Hymn-style: Optional 'C' Instrument Part

Hymn-style: Optional 'Bb' Instrument Part
---
Piano Versions
---
Piano: Hymn-style, without lyrics

Piano: Melody Line and Chords

Easy Piano: Hymn-style, without lyrics
---
Organ Versions
---
Organ: Manuals and Pedals
---
Guitar Chords & Bass Progressions
---
Guitar & Bass: Full chords in keyboard key