A House Has Different Rooms
One of four songs for when younger people are moving to groups or classes
Music by Ron Klusmeier
Words by Fred Kaan
Tune Name: DIFFERENT ROOMS 1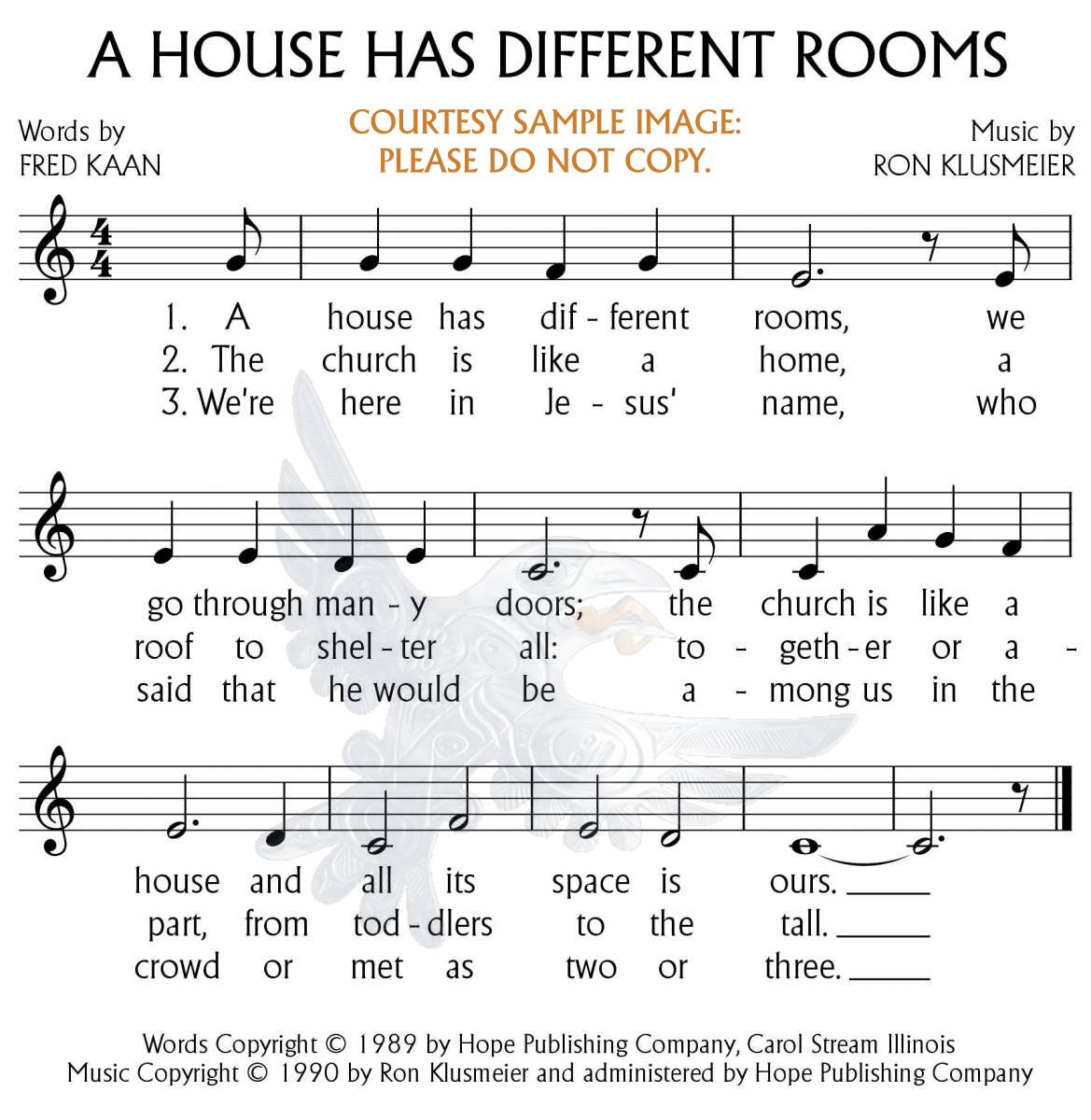 Lyrics as Poetry
A house has different rooms,
we go through many doors;
the church is like a house
and all its space is ours.
The church is like a home,
a roof to shelter all:
together or apart,
from toddlers to the tall.
We're here in Jesus' name,
who said that he would be
among us in the crowd
or met as two or three.
---
Words by
Fred KaanCopyright © 1989 by Hope Publishing Company
(Carol Stream, Illinois) for USA and CanadaCopyright © 1989 by Stainer & Bell Limited
(London, England) for all other territories
Comments About Song
---
This is one of four short hymn texts written by Fred Kaan during the course of 1987 while he served at Central (Ecumenical) Church in Swindon, England. They are intended to be used at the time in worship services when younger people are about to 'leave' to go to their own groups or classes.
The other three selections from the set
(all available on this website) are:
"Although We Go Our Separate Ways"
"Before We Came to Church"
"Upstairs? Downstairs"
All four of these texts appear in Fred's book,
"The Only Earth We Know".
---
The Only Earth We Know
(Hymn Texts by Fred Kaan)
is co-published by:Hope Publishing Company
Carol Stream, IL USA
(for USA and Canada)Stainer & Bell, Limited
London, England
(for all other countries)

                                                    Audio Sample for "A House Has Different Rooms"
Season, Theme
or Subject
All-ages
Celebration
Children∶ moving to classes
Children∶ music about
Children∶ music for
Christian∶ community
Church∶ fellowship
Church∶ ministry
Church∶ worship
Intergenerational
Presentation Suggestions
This song offers itself as a fine teaching moment. Children will understand the concept of houses having different rooms and the fact that more than one can be occupied at the same time. Even so, all of those in the various rooms are together beneath one common, sheltering roof.
Consider singing this short song twice. Between the two sung times, speak the words line-by-line and invite conversation about the comparisons between houses and church buildings.
Projection Images
This feature is only accessible to Subscribers or those who have purchased this Single Title.
---
Use the link below for instructions on how to use the Projection Images in Powerpoint and Keynote.
Learn more
---
Projection Images
Available for This Title
---
16:9 Words Only
Apple Keynote
MS PowerPoint
ZIP File (JPEGs)
16:9 Words With Music
16:9 Words With Images
4:3 Words Only
Apple Keynote
MS PowerPoint
ZIP File (JPEGs)
4:3 Words With Music
4:3 Words With Images
Accompaniment Recordings
Not yet available for this title. Contact us if you are a subscriber (or purchaser of this title) and need this item.
Purchasers and Subscribers


Click links below to download your versions.
Versions Available for This Title
Contact us if you need a version you don't see here.
---
Melody Line Versions (includes transposing instruments)
---
Melody Line: 'C' Instrument or Vocal

Melody Line: 'C' Instrument 8va

Melody Line: Bass Clef 'C' Instrument

Melody Line: Alto Clef Instrument

Melody Line: 'Bb' Instrument

Melody Line: 'Eb' Instrument

Melody Line: 'F' Instrument (high)

Melody Line: 'F' Instrument (low)
---
Hymn-style Vocal Harmonizations (accompany with any piano versions)
---
---
Piano Versions
---
Easy Piano: Hymn-style, without lyrics
---
Guitar Chords & Bass Progressions
---
Guitar & Bass: Full chords in keyboard key

Easy Guitar: Basic chords