In Isolation: April 15, "When All Else Is Gone"
An introduction to this "In Isolation" blog series appears at the top of the March 22 post.
---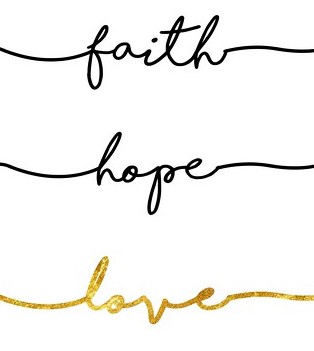 I was once an organist at a United Church of Christ congregation in Wisconsin. One day in 1966, while sitting together in the minister's office and without any context I was aware of, he said to me, "You know, Ron, we weren't put here simply to eat filet mignon." Thus began one of the longest, confusing and most meaningful conversations the two of us ever had. It was mostly a monologue on his part, but it launched me into a new way of thinking about ministry.
I was able, for the first time, to see a link between the passion I felt for my participation in the 1960's peace and racial equality movements and my previously unexplainable desire to continue making music in the church side-by-side with my solo piano lounge work and my insanely busy folk group, rock bar-band, polka band (lots of weddings and bar mitzvahs!), and 18-piece swing band — all this while privately studying pipe organ with two of the finest organists in the midwest U.S.
Until that "filet mignon" conversation, I wrote off my involvement in so many musical idioms as having more to do with an eclectic taste for music than anything else. However, what I heard in that chat was an 'invitation' to somehow bring all of those varied musical styles into the church. You see, Vern (my minister friend) explained to me how important it was to find one's place, one's dream, and follow it in spite of whatever inevitable obstacles are encountered.
He talked about recognizing a "call". I had absolutely no idea what he was talking about since both the word and the concept had not been part of my life. Ask me to play "Misty" or "Proud Mary" or "The Beer Barrel Polka" or "Puff, the Magic Dragon" or (on a Sunday morning) a Buxtehude Prelude and Fugue and I was on it. The very suggestion that all that could be mixed together to become fodder for a life of full-time music ministry was… Huh?
At the end of the conversation, Vern said, "Don't get caught up in what I refer to as 'accumulation addiction'." He pointed out that when all the 'stuff' becomes old ("and it always does"), think about what's left. He then said, "When you get home, have a look at 1 Corinthians 13:13."
To be perfectly honest, I didn't entirely 'get' all the linkages he was talking about. I still don't. But what mattered to me, then and now, is that somehow I had been given the gift of a vague clarity about what I should be doing — and it was nothing like what I had been planning. Ironically, the following week I met John Ylvisaker ("I Was There to Hear Your Borning Cry") after experiencing his "Mass for the Secular City". That's another story, but it's also an incredible "Amen".
Shirley Murray wrote the words for "When All Else Is Gone" in 2006. She said, "When looking at this familiar text (1 Corinthians 13:13), I had an echo in my mind of the Maori waiata, or greeting song, usually chosen by a woman and used in welcome ceremonies. 'E toru nga mea' says simply: 'There are three things, three very important things which the Bible tells us. There is Faith, and Hope, but the most important thing is Love.'"
David Moddle sings three of the six verses for the audio sample for "When All Else Is Gone".
---
When all else is gone,
these things remain:
faith, hope and love,
faith, hope and love,
while our life goes on,
these things sustain:
faith, hope and love,
faith, hope and love,
faith finds the path,
hope is the start,
love keeps the world
close to God's heart,
faith may be strong,
hope may be sure
but for the world,
love is the cure.
When all else is gone,
through dark and pain,
love will still burn,
love will be born,
when our faith is gone,
when hope is vain,
love moves the stone,
love, love alone.
Words by Shirley Erena Murray
Copyright © 2006 by Hope Publishing Company, Carol Stream, Illinois • USA