In Isolation: April 10, "Weep for the Dead"
An introduction to this "In Isolation" blog series appears at the top of the March 22 post.
---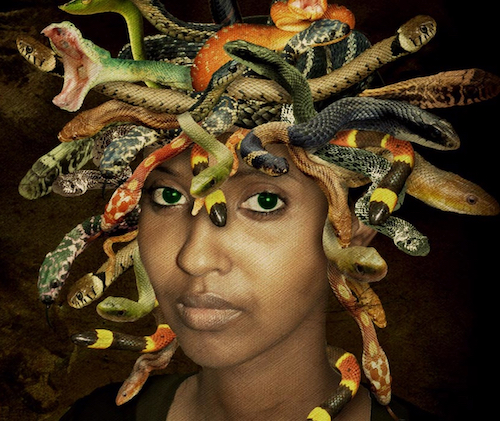 Good Friday. Choosing a piece of music to feature today should be easy. There is no shortage of resources on my own website, as well as from thousands of other sources, which contain appropriate direct references to this important day in the life of the Christian church.
However, like my take on all kinds of faith stories, I find myself seeking another angle, some new portal for entry in the story, some new epiphany moment. I accept that there is value in retelling the crucifixion part of the story and I acknowledge the importance of perpetuating it. However, I must confess that this is a hard day for me. As I ponder humanity's inhumanity that is so much a part of our lives in the here-and-now (as well as just about every human time which came before us), I find my mind feeling like Medusa is in there with left and right lobes fighting it out, each trying to get to the other's side.
If that makes any kind of sense, perhaps my friends will be able to conjure up some nominal understanding, or empathy, or just "well, there he goes again". So, here's the deal. My Good Friday choice is "Weep for the Dead", a hymn with words by Brian Wren. Originally written for a national day of remembrance, it stirs the pathos deep within me which triggers both sadness and anger about the absolute folly of lives lost for the sake of… what?
I've been accused more than once of wearing my heart on my sleeve, of being a tree-hugger, of being a pacifist who is selective about the verses he sings during "To every thing there is a season". Whether it's the Good Friday story, holding the hands of starving people in Ethiopia, recalling tragic encounters from my days serving on a rescue squad, or aching with the plight of 400 terrified prisoners newly diagnosed with COVID-19, my grief is always there with them.
I hope we will learn from this current experience. Of course, the cynical part of me reminds the other part that I've voiced that hope countless times in the past. Pick your tragedy or atrocity to recall and I've probably shed a tear about it. Then there's that thing I wrote yesterday about Judas. Would we even remember the guy from Nazareth if he had died peacefully and naturally at home with his kids and grandchildren at his side after spending a comfortable life as a carpenter preaching safe stuff on the side?
I'm so confused. But, truth be told, I kind of like it that way.
---
Weep for the dead.
Let tears and silence tell
of blood and battle, horror and renown.
The years diminish, but do not dispel
the pain of lives destroyed,
and life laid down.
Silent the dead.
Remembering, we stand
silent as they, for words cannot esteem
causes of war, the love of native land,
all that they were, and all
they might have been.
Raising our flag,
we stand with muffled drum,
judged by the colors of God's love and loss,
recalling, as we pray, "Your Kingdom come,"
a purple robe, and blood
upon a cross.
Summoned by love
that leaves no room for pride,
we pray that every continent and isle,
wounded by war, war's hate may lay aside,
and find a way to heal
and reconcile.
Weep for the dead,
from all the ills of earth.
Stand by the cross that bids all hatred cease.
March to the drums of dignity and worth.
Salute the King of Love,
the Prince of Peace.
Words by Brian Wren
Copyright © 1989 by Hope Publishing Company (Carol Stream, Illinois) for USA, Canada, Australia and New Zealand.
Copyright © 1989 by Stainer & Bell Limited (London, England) for all other territories.