"Stay with Us" is a completely free title!
Churches, schools, and choirs may print, photocopy, and use STAY WITH US when downloaded from this website as a gift from composer Ron Klusmeier and author Walter Farquharson.
Use it without fees or permissions including the anthem versions!
Click Here To Access
This Free Title
After clicking the button above, you'll be prompted to complete a purchase for all versions of "Stay with Us" for $0. Upon completion of the 'purchase', you will receive access to the files at no charge. You may then download, print, copy, and use them in whatever way is useful for you.
Please note that if you wish to reproduce "Stay with Us" for any commercial endeavour, permission must be obtained from Hope Publishing Company.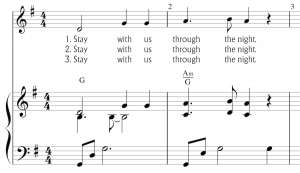 Once you have downloaded any or all of the more than 30 (!) versions, they are yours to keep. Your church, school, or community choir may reproduce and use them without limitations other than:
Please credit the Author and Composer whenever using the title.
If your church, school, or choir is a member of a licensing organization (OneLicense, CCLI, etc.), please report your usage.
For recordings utilizing any medium or for any commercial reproduction or use, please contact Hope Publishing Company in Carol Stream, Illinois. Hope administers the worldwide rights for such uses.
Explore the many versions included in this sample piece. Print them. Sing them. Play them. Combine them to make custom arrangements based on your local resources.
CHORAL ANTHEM VERSIONS
MELODY LINE VERSIONS FOR TRANSPOSING INSTRUMENTS
HYMN-STYLE VOCAL HARMONIZATIONS
DESCANTS
OPTIONAL INSTRUMENTS
PIANO VERSIONS
ORGAN VERSIONS
GUITAR VERSIONS
STAY WITH US is just one of hundreds of songs, hymns, and anthems by Ron Klusmeier available through the Musiklus Subscription Service — and as individual titles. New compositions are added to the site as they are created!