God, the All-Holy
Music by Ron Klusmeier
Words by Brian Wren
Tune Name: VERMILION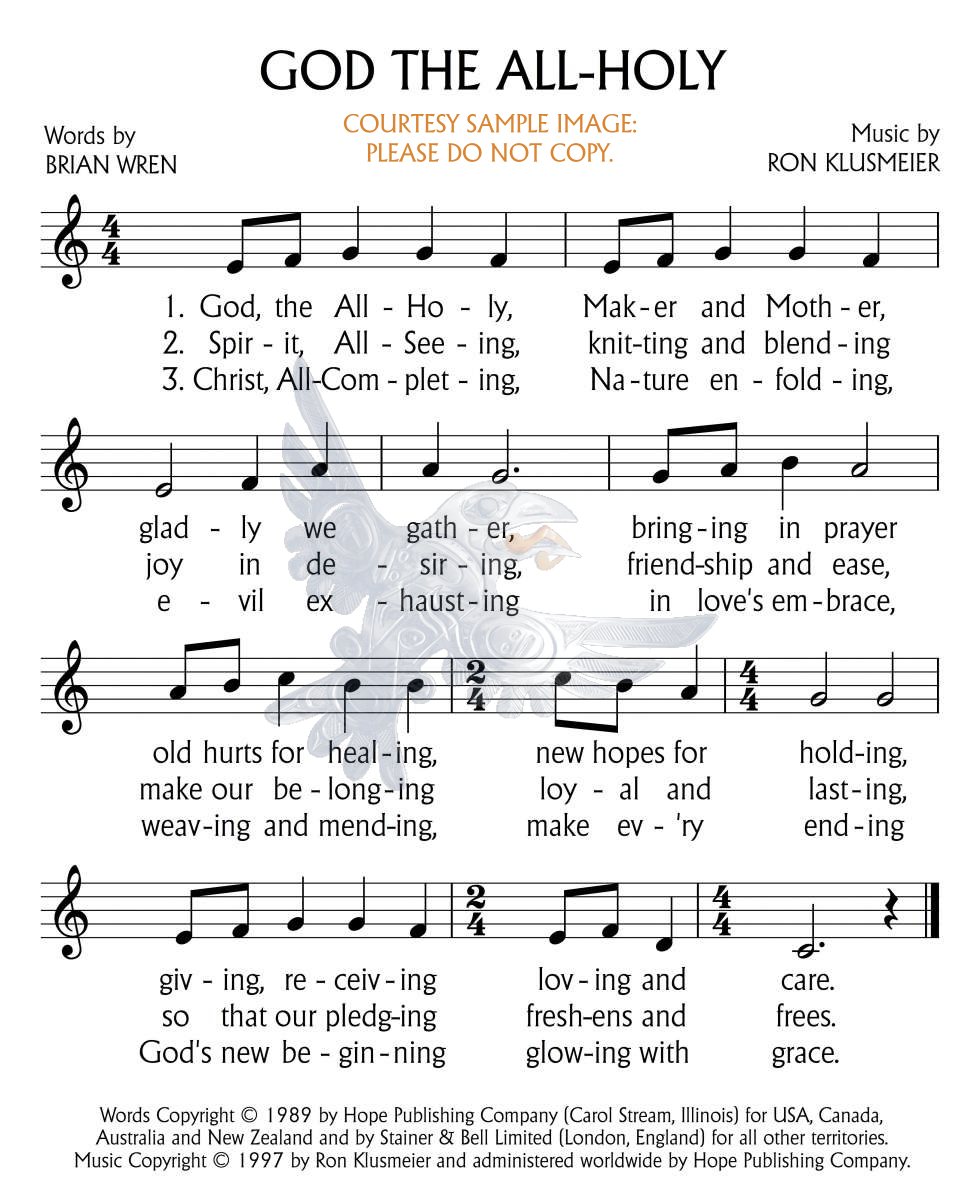 Lyrics as Poetry
God, the All-Holy,
Maker and Mother,
gladly we gather,
bringing in prayer
old hurts for healing,
new hopes for holding,
giving, receiving,
loving and care.Spirit, All-Seeing,
knitting and blending
joy in desiring,
friendship and ease,
make our belonging
loyal and lasting,
so that our pledging
freshens and frees.Christ, All-Completing,
Nature enfolding,
evil exhausting
in love's embrace,
weaving and mending,
make every ending
God's new beginning
glowing with grace.
---
Words by
Brian WrenCopyright © 1989 by Hope Publishing Company
(Carol Stream, Illinois) for USA,
Canada, Australia and New Zealand.Copyright © 1989 by Stainer & Bell Limited
(London, England) for all other territories
Comments About Song
BRIAN WREN
from his book "Piece Together Praise" (p 136):
---
"September 1988, as a gesture of affection for
Pitt Street Uniting Church, Sydney, Australia."
---
Piece Together Praise
(A Theological Journey)
is co-published by:Hope Publishing Company
Carol Stream, IL USA
(for USA, Canada, Australia and New Zealand)Stainer & Bell, Limited
London, England
(for all other countries)
                                                    Audio Sample
"GOD, THE ALL-HOLY"
One verse played on piano
Season, Theme
or Subject
Community
Gathering
God∶ nature of
Grace
Human Relationships
Relationships∶ relationships with others
Trinity
Wholeness
Projection Images
Projection Images are available in three different versions:
Apple Keynote
MS PowerPoint
ZIP (JPEGS) which may be incorporated into any projection software program.
---
Projection Images are available in two aspect ratios:
Standard (4:3)
Widescreen (16:9)
---
Varying by title, slides may be available as:
Words only
Words and images
Words and melody line
---
Use the link below for instructions on how to use the Projection Images in Powerpoint and Keynote.
Learn more
Purchasers and Subscribers


Click links below to download your versions.
Versions Available for This Title
Contact us if you need a version you don't see here.
---
Melody Line Versions (including transposing instruments)
---
Melody Line: 'C' Instrument or Vocal

Melody Line: 'C' Instrument 8va

Melody Line: Bass Clef 'C' Instrument

Melody Line: Alto Clef Instrument

Melody Line: 'Bb' Instrument

Melody Line: 'Eb' Instrument

Melody Line: 'F' Instrument (high)

Melody Line: 'F' Instrument (low)
---
Piano Versions
---
---
Hymn-style Vocal Harmonizations
---
---
Guitar Chords & Bass Progressions
---
Guitar & Bass: Full chords in keyboard key

Guitar: Transposed capo chords

Easy Guitar: Basic chords